Yellowstone, Tetons and California (Y-T-C)
Trip Updates
<![if !supportEmptyParas]> <![endif]>
<![if !supportEmptyParas]> <![endif]>
Y-T-C Trip Update #1  -- July 29, 2005
<![if !supportEmptyParas]> <![endif]>
Hi all,
This is our first report from our Yellowstone, Tetons and California (Y-T-C) trip.  We spent about 8 days in Yellowstone seeing all the cool geysers, hot springs, mud pots and fumaroles.  We climbed Mt Washburn (10,400 feet) and spent 4 days in the Yellowstone backcountry around Heart Lake.  While in the backcountry, I climbed Mt. Sheridan also about 10,400 feet.  We moved on down to the Tetons and have been here for five days.  We spent two nights in the backcountry in Garnet Valley.  On Tuesday, we hiked about 4.5 miles from the trailhead (about 6500 feet) into Garnet Valley and base camped in the Meadows Camping zone at about 9200 feet.  On Wednesday Pat and I hiked up to the saddle (11,400 feet) between the Middle and South Teton peaks to scout out some climbing routes and we returned to the base camp. On Thursday morning I hiked up to the saddle and climbed Middle Teton (12,800 feet) and went for the double header and climbed South Teton (12,500 feet).  From our earlier scouting it was obvious that there would be a lot of very steep snow fields involved in both climbs so Pat opted to look after the base camp while I made the climb.  Middle was a very interesting climb with a lot of ice ax and crampon activity.  South was considerably less snow but a lot of 4th class scrambling and some exposure on the ridge near the peak. I left the base camp at 6:30 AM and returned very tired at about 3:30 PM.  We then packed up all our gear and hiked down to the trailhead by 7:00 PM.  Today (Friday) is the first day of bad weather we have had on the trip.  It rained on and off last night and has been drizzling on and off all day.  We will be going back into the backcountry tomorrow to the Surprise Lake camping zone (about 9200 feet) for one night.  If all goes well, I will get a chance to climb Disappointment Peak (11,600) before we hike out. 
Pat and I are doing great.  A little sore and stiff from all the hiking but having a super time and enjoying some fabulous scenery.  More to follow later.  … John and Pat.
<![if !supportEmptyParas]> <![endif]>
<![if !supportEmptyParas]> <![endif]>
<![if !supportEmptyParas]> <![endif]>
Y-T-C Trip Update #2  -- August 2, 2005
<![if !supportEmptyParas]> <![endif]>
<![if !supportEmptyParas]> <![endif]>
Hi all,
This is our second report from our Yellowstone, Tetons and California (Y-T-C) trip.  Saturday morning (7/30) we went back into the Teton backcountry and hiked up to Surprise Lake (9,550 feet) and set up camp.  After lunch, Pat and I hiked up to Amphitheater Lake (9700 feet) and I climbed Disappointment Peak (11,600 feet).  After dinner, at about 7 PM, all the day hikers headed back down to the trailhead and Pat and I had the whole area around Surprise Lake to ourselves.  Sunday morning we tried to find a route from Amphitheater Lake up to the Teton Glacier but were not successful.  We then returned to Surprise Lake and climbed one of the lower un-named peaks (about 9900 feet).  The first picture below is a picture of Pat on that peak with Middle Teton (12,804 feet) to her left and immediately to her right is South Teton, (12,514 feet), next to it is Cloudveil Dome (12026 feet) and farthest to the left in the picture is Nez Perce (11,901 feet).
<![if !vml]>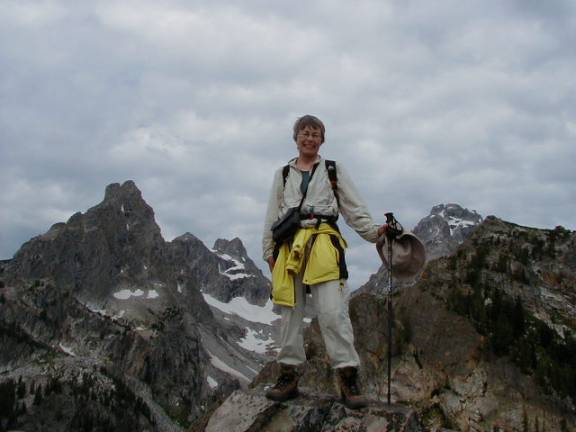 <![endif]>
After lunch on Sunday we hiked back down to the Lupine Meadows Trailhead and went back to Colter Bay to get a campsite for the next couple days.  Monday morning we hiked to Hidden Falls, very cool, and spent the afternoon walking the creek bed of Pilgrim Creek looking for rocks to add to Pat's collection.
Today, (Tuesday 8/2) we got the tent packed up this morning just as it started to rain.  The day has been pretty dreary so we stopped at the Moose Lake visitor center and various scenic overlooks where we did not have to get too far from the car.  We went to Teton Village and looked around.  We got a good look at the Jackson Hole Ski Area.   We made a slight change in the itinerary and are heading to Montpelier, Idaho to check out Bear Lake State Park later today.
We will be traveling Wednesday and Thursday to Fort Collins, CO to pick up our daughter Natalie as she will be accompanying us on the California portion of the trip.  If everything goes as planned, we will be leaving early Friday morning from Fort Collins for Mammoth Lakes, CA and should arrive there in the early afternoon on Saturday.  We are currently at the Hard Drive Internet Café in Jackson and since they have Wi-Fi, we can use our own computer so we attached a couple pictures.
The picture below is Pat traversing a snow field on our way to the saddle between South Teton and Middle Teton to check out the routes before I made the climbs last Thursday.
<![if !vml]>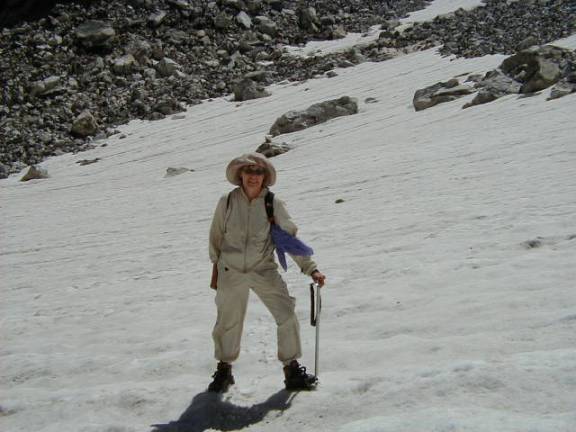 <![endif]>
The picture below is from the top of  South Teton looking to the North.  The high peak is Grand Teton (13,770 feet).  The "notched" peak highlighted by the red circle in the foreground is Middle Teton (12,804 feet).
<![if !vml]>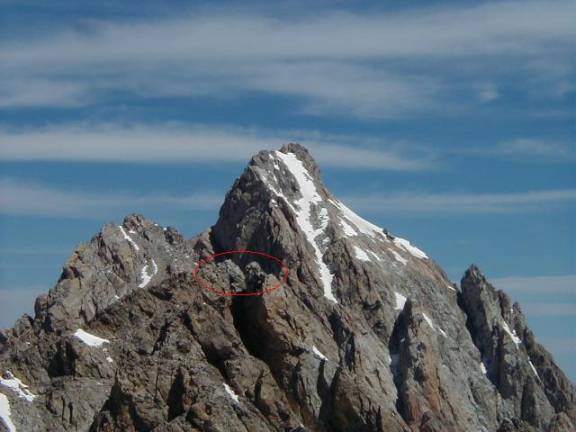 <![endif]>
The last picture is me on top of South Teton.
<![if !vml]>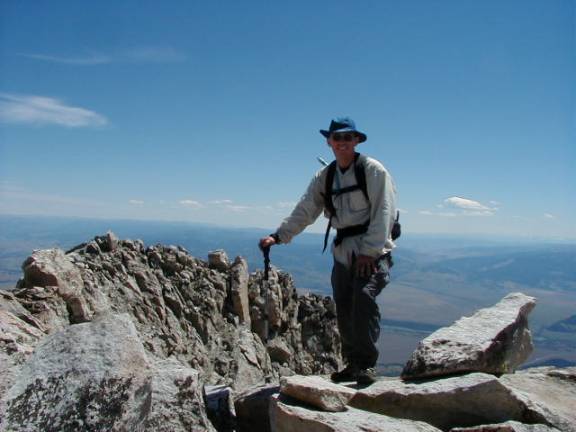 <![endif]>
Pat and I are doing great but also looking forward to a couple days of no hiking to rest up for the California portion of the trip.  More to follow later.  .... John and Pat
<![if !supportEmptyParas]> <![endif]>
<![if !supportEmptyParas]> <![endif]>
<![if !supportEmptyParas]> <![endif]>
Y-T-C Trip Update #3  -- August 22, 2005
<![if !supportEmptyParas]> <![endif]>
<![if !supportEmptyParas]> <![endif]>
Hi all,
Well we made it back home.  Since our last update, we left the Tetons and spent two days traveling to Fort Collins to pickup Natalie and then spent two days traveling to Mammoth Lakes, CA.  We arrived in Mammoth on Saturday afternoon (8/6).  We had dinner that evening with Craig and Anne Knoche, two of the Search and Rescue people that were part of the recovery team that I met last year.  Craig was one of the two team members that first reached Otto and Anne was working at the Command Center.   They put me up in their home during the recovery operation.  They took good care of me during that very difficult time and we have kept in touch via email over the last year. 
We got our backcountry permit on Saturday without a problem and set off into the backcountry heading for Mt. Ritter on Sunday.  We parked the car at the Mammoth Lakes Ski Area and took the mandatory shuttle and entered the Inyo National Forest at Agnew Meadows Trailhead.  We were welcomed with a thunderstorm and pea size hail that evening but we managed to get the tent set up just before the storm hit so all was well.  The next morning we hiked to the basecamp that we would be using for the Ritter climb.  We chose the same area for the basecamp that Otto and I used the year before.  After lunch, Natalie and I did a little route exploration on the upper level (11,000 feet) approach route in the Southeast Gully.  This last winter, the Mammoth Lakes area had 50 feet of snow, four times their normal snowfall. Much of the snow still remained in the  higher elevations so the whole area looked considerably different than I had remembered it from the previous year.  Craig, Anne and their two dogs decided to join us in the  backcountry and they arrived at the  basecamp just after noon.  Craig offered to accompany me on the climb and we decided to start at about 7 AM the next day, Tuesday.   We visited with Craig and Anne during the afternoon, fixed dinner and went to bed early.
I got up early as I could not sleep thinking about the events of last year, the climb, the heavy snow conditions, etc.  Just a little before 7 AM, Anne let me know that Craig had something come up and had to hike out during the night and would not be back until later in the day.  I started up the mountain about 7 AM. 
With about 80-85% of the route covered with snow, the climbing was very fast.  In the early morning, the snow was firm and provided stable footing with crampons.  Ascending the steep snow fields was much easier and faster than scrambling over bare rock, talus and scree.  I climbed the 3300 feet in 3 hours reaching the summit a little before 10 AM.  I signed the registry, read a couple of the recent entries, found a good spot for the memorial plaque that I took up to the summit for Otto, had something to eat, took a few pictures and started down about 10:30 AM.  I had the GPS with me so on the way down, I took a different route around the Southeast Pinnacle so I could pass the spot where Otto was found.  I could not help but think about what a beautiful place that was for such a tragic thing to happen.  The rest of the descent was almost all on snow and I was in the basecamp by about 12:30 PM.
While I was climbing, Pat, Natalie, Anne and the dogs were hiking on the ridge line to the North of the basecamp.  The mosquitoes were pretty intense in the basecamp area so the higher they got away from the basecamp, the less bothersome they were.  They had a good hike and some interesting stream crossings of the many "melt streams" in the area from all of this years melting snow.
Craig returned to the basecamp about noon.  Craig and Anne had to head back, so they packed up, we said our good byes and they headed out.  Pat, Nat and I spent the rest of the day relaxing and hiking in the area.
We decided to change our plans and come out of the backcountry a day early so that we could spend a day at Yosemite.  Natalie had never been to the park and since we were so close, it was a chance for her to see the park. Wednesday (8/10) we started hiking out and camped between Lake Ediza and Shadow Lake.  That afternoon, we hiked a section of the John Muir Trail up to Rosalie Lake and back.   Thursday morning we hiked back to Agnew Meadows and caught the shuttle bus to Devils Post Pile National Monument.  We hiked from there to just South of Boundary Creek and set up camp.  Later that day we hiked to Rainbow Falls and the Lower Falls.  Friday morning (8/12) we hiked a couple miles to the Rainbow Falls Trailhead and caught the shuttle back to where we had parked the car.  By 9 AM we were driving toward Yosemite.  We drove straight through to Yosemite Village and had lunch. On the way back, we stopped to hike to the base of El Capitan, hiked into Bridal Veil Falls and stopped at several observation points along the way.  Friday evening we made it as far as Fallon, NV and stopped for the night.  The Holiday Inn we stayed at in Fallon was associated with a nearby Casino, so naturally we had to go use the free coupons they gave us for the Casino.
We spent the next two days traveling back to Fort Collins and arrived at about noon on August 14th.  Andy, Natalie's significant other, grilled up some chicken for us for lunch.  Andy's parents were passing through Fort Collins on their vacation on Sunday too, so Nat and Andy treated us all to a three course fondue dinner at the Melting Pot in Fort Collins.  The dinner was super!
Pat and I left Fort Collins on Monday (8/15) and got as far as Lincoln, NE.  We camped in one of the local RV parks and had dinner downtown in the Hay Market district, a restored warehouse area with lots of nice restaurants.   We arrived home on Tuesday (8/16) after spending 32 days away from home and put 5736 miles on the car, not to mention all the miles we put on our bodies.
Pat and I had a great trip.  We got a real good look at two parks that we had not been to before.  I took care of the unfinished business at Mt. Ritter and we were able to spend a week hiking and camping with Natalie.  We got to spend some time with Craig and Anne, getting to know them better.  Pat and I got to enjoy each other's company in some of the most scenic areas of the country.
As time permits, I will be putting the pictures and diaries from the trip on our website.  Currently, I have the pictures (with captions) completed for the Mt. Ritter climb.  They can be found at  WWW.DickinsonAdventures.com/y-t-c/ritter/ritter.htm .  When I get all the pictures on the website, I will let you all know.
We hope this updates finds everyone well and that you are all having a great summer.  ....  John and Pat
<![if !supportEmptyParas]> <![endif]>
<![if !vml]>

<![endif]>
<![if !supportEmptyParas]> <![endif]>