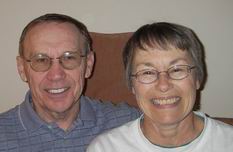 Hosted by StartLogic DickinsonAdventures.com
| | | | | | | | | | | | | | | |
| --- | --- | --- | --- | --- | --- | --- | --- | --- | --- | --- | --- | --- | --- | --- |
| Home | || | Family | || | Bicycling | || | Canoeing | || | Hiking | || | Scooter | || | Holidays | || | Misc |
<![if !supportEmptyParas]> <![endif]>
John and Patís Boundary Waters
†

Canoe Area Adventure 2012
Introduction
This website contains pictures taken during John and Pat Dickinsonís Boundary Waters Canoe Area (BWCA) Adventure of 2012.† We left home on September 16, 2012 and returned home on September 21st.†† We went in at Entry Point #54, Sea Gull Lake, near the end of the Gun Flint Trail, North of Gand Marias, MN.
Summary
It had been a couple years since we were in the BWCA and we were anxious to get back. Things did not start off so well as we were in Duluth when I remembered that I did not put the food pack in. To make a long story short, the food pack was not with the other packs when I loaded up the car. The good news is, I remembered it before we were at our destination. The bad news is, we had to drive the 150 miles back home to pick it up. It was too late in the day to pick up our entry permit by the time we got back up North so we spent the night in a motel in Beaver Bay and got the permit the first thing Monday morning at Grand Marias. We passed through areas of rain on our way to the entry point. That was a precursor of things to come...... It was not raining when we finally got the canoe loaded and were on our way. It was however very windy! It was a rainy, cold and windy six day trip in the BWCA. Fishing was poor but I did manage to catch a dozen or so small Northerns and two very nice Small Mouth Bass. We had rain every day but managed to get a couple hours of sun (or at least dry) each day. The high winds restricked our movement and forced us to do all of our fishing on the leeward side of the islands and nearby shore lines. Because of the bad weather, we did not move camp much. Typically, we move each day but this year spent a couple days in each of three sites. We saw very few people but were very surprised at one portage where we ran into a group of two canoes going in our direction and two groups of 4 canoes going in the opposite direction. That is more people than we have seen in the last several trips combined in the BWCA in the fall.
Pictures
An assortment of the pictures that we took on our trip can be accessed by using this link.†
Contact Information
If you wish to contact us you may do so using the contact information below.† We enjoy answering any questions you may have about our trips.† We also enjoy hearing about trips that you may have taken.
John and Pat Dickinson
†

jrdpad@aol.com

<![if !supportEmptyParas]> <![endif]>

Last revised: September 2012

<![if !supportEmptyParas]> <![endif]>