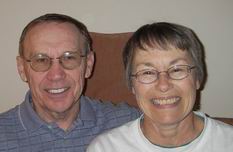 Hosted by StartLogic DickinsonAdventures.com
| | | | | | | | | | | | | | | |
| --- | --- | --- | --- | --- | --- | --- | --- | --- | --- | --- | --- | --- | --- | --- |
| Home | || | Family | || | Bicycling | || | Canoeing | || | Hiking | || | Scooter | || | Holidays | || | Misc |
<![if !supportEmptyParas]> <![endif]>
John and Pat's Mississippi River
Canoe Trip Adventure 2003
Introduction
This website contains pictures taken during John and Pat Dickinson's Mississippi River Canoe Trip Adventure of 2003. We started the 1669 mile trip on June 2, 2003 just South of Lock Number 2 in Hastings, MN and arrived in New Orleans, LA. 71 days later on August 11, 2003. With the exception of 3 nights in St. Louis visiting relatives and two nights in a hotel in Memphis for business, we camped out each night on the sand bars, shore line and dredge islands along the way. Below are a few statistics from our trip:
Departed:

June 2, 2003
Arrived:

August 11, 2003
Total Days:

71
Paddling Days:

64
Rain Days:

7
Camping Nights:

65
River Miles:

1

669
Highest Daily Average Speed:

6.8 MPH
Maximum Speed:

10.3 MPH
Most Daily Miles paddled:

37.0
Number of Locks:

23
In summary, the trip was absolutely wonderful. We had some incidents with heavy winds, turbulent water, water in the canoe and closely passing towboats but were never in any life threatening situations. We saw an abundance of wild life including eagles, snakes, turtles, beaver, turkey, opossum, pelicans, alligators, deer, raccoon, wild dogs, fox and many herons. Except for a few days of rain and a couple weeks of extreme heat, the weather was excellent. The people along our route were extremely nice and very helpful. Often they would go out of their way to give us a ride to get water or groceries. The river was considerably cleaner than we imagined it would be. Except for the last couple days of the trip, I went for a swim every day. We were expecting to have to camp in some muddy and smelly places but that was never the case. We were extremely pleased with the beautiful sandbars and dredge islands that we called home each evening.
We had prearranged to have our son-in-law and daughter drive our van to New Orleans and arrive on August 11, 2003 to meet us. In the last couple weeks of the trip, we found that we actually had to reduce our daily mileage so as not to arrive in New Orleans before the appointed date. After vacationing in New Orleans with the Chad and Tracey for a few days we returned home on August 16, 2003.
Pictures Organized by Topic
An assortment of the pictures that we took on our trip are grouped in various topics. Use this link to access the Topic Menu. From the Topic Menu, thumbnails of each picture are provided to use as poke points to access an expanded view of that picture. Use your browser's forward and back buttons to navigate through the pictures and return to this page.
Trip Diary and Updates
We carried a Compact iPAQ 3765 handheld computer with a foldable keyboard and solar recharger. Each evening, Pat would type up a summary of the day's activities. The Diary is organized by day and can be found by clicking here.
By connecting the handheld computer to our cell phone, we were able to send periodic updates and responses to emails that we received along the way. The "updates" have detailed information about the equipment we carried, re-supply issues, daily longitude and latitude of each night's campsite, etc. The updates can be found by clicking on the link on the left titled, "Trip Updates". The Trip Updates can also be accessed by clicking here.
Contact Information
If you wish to contact us you may do so using the contact information below. We enjoy answering any questions you may have about our trip. We also enjoy hearing about trips that you may have taken.
John and Pat Dickinson jrdpad@aol.com
Last revised: November 7, 2004