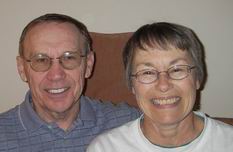 Hosted by StartLogic DickinsonAdventures.com
| | | | | | | | | | | | | | | |
| --- | --- | --- | --- | --- | --- | --- | --- | --- | --- | --- | --- | --- | --- | --- |
| Home | || | Family | || | Bicycling | || | Canoeing | || | Hiking | || | Scooter | || | Holidays | || | Misc |
<![if !supportEmptyParas]> <![endif]>
John and Patís Boundary Waters
†

Canoe Area Adventure 2010
Introduction
This website contains pictures taken during John and Pat Dickinsonís Boundary Waters Canoe Area (BWCA) Adventure of 2010.† We left home on October 15, 2010 and returned home on October 18th.†† We went in at Entry Point #40, Homer Lake (near Brule Lake), which is North of Lutsen, MN.
Summary
This was the shortest trip ever to the BWCA. We entered on Saturday paddling a couple miles into a severe head wind and high waves. That evening the temperature got well below freezing and we awoke to continued high winds. It was too windy to continue on our planned route so we left the tent up and decided to do a short route with just the fishing equipment. We portaged into Whack, Vern Lake, Vern River, East Pipe and returned to our tent in Homer fishing along the way, only one small Northern. The winds were steady all day 15-20 mph gusting to 30. We listened to the weather radio when we got back to the tent site and found conditions were not going to improve and the temperatures were going to drop over the next couple days. About 3 pm on Sunday, we decided to paddle out since the wind and white caps were at our backs. It is always nice to get to the BWCA but truth be told, this was perhaps the least fun of all our trips to the BWCA.
Pictures
An assortment of the pictures that we took on our short trip can be accessed by using this link.† Thumbnails of each picture are provided to use as poke points to access an expanded view of that picture.† Use your browserís forward and back buttons to navigate through the pictures and return to this page.
Trip Diary
Pat's Trip Diary can be found by clicking here.
Contact Information
If you wish to contact us you may do so using the contact information below.† We enjoy answering any questions you may have about our trips.† We also enjoy hearing about trips that you may have taken.
John and Pat Dickinson
†

jrdpad@aol.com

<![if !supportEmptyParas]> <![endif]>

Last revised: October 2010

<![if !supportEmptyParas]> <![endif]>